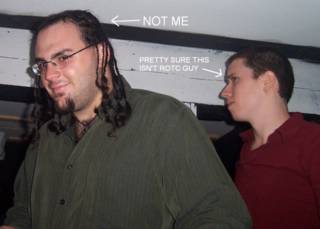 There have been two (2) times (X) in my life that I have seen someone that looks so much like me that I go "What the? Why am I eating chips in front of Yesterday's?"
The first was, obviously, when I saw some guy eating chips in front of
Yesterday's
in college.
"There I am," I yelled as I drove by. I almost pulled over, but Back To the Future II and
Timecop
advise against that.
The second time was just now. Random Goolge image searching.
"Hmmmmm, let's try
'apocolypse'
," I think ... and misspell.
Two chicks spanking another chick!
Click!
What the hell? Me?
Was I so drunk one night (year) in college that I went to a goth party with braided Braveheart hair?
Is that the ROTC guy who lived on my dorm hall? Why is he looking at me so funny?
WHY DON'T I REMEMBER THE CHICKS KISSING AND SPANKING?